As a life-long Baptist girl I'll be honest and confess that my first time even hearing about Advent was in 2006 (I was 25) when during a festive Thanksgiving talent show my two German friends recited -in German- an Advent poem.
circa- 2006. Me with one of the German's in the talent show.
After that a blog I follow - a fellow Baptist girl- talked about doing Advent in her home.
Since then I've added 3 whole children to my home and have had 6 years to slowly gather information about this traditional church holiday.
What have I concluded? That the season of Advent is intended to prepare the heart for the long-awaited arrival of the promised Savior. The birth of Jesus.
There are many ways to go about celebrating. Some are really liturgical, some completely secular, and everything in between. So I did what any novice Adventer would do and found a guide online from a fellow mom of preschoolers and am going to use that as my guide.
My main goal in this venture is to PREPARE.
I want to prepare our hearts for Christmas. Not just screech into Christmas Eve and Christmas morning unfocused with some nice decorations and a sleepy-eyed reading of the Christmas story while really my kids just wanna get to the gifts under the tree.
Here's how we'll be going about it:
We started December 1st. This isn't traditional, but I know December 1st is an easy date to remember. The chances of me repeating this endeavor, and thus creating years of meaningful Christmastime memories for my kids and instilling in them the sweet wonderful meaning of the Advent of Christ means starting every year has got to be easy.
Plus, I made these bags.
(before our vacation to America...because I know you've been wondering where I went)
And they have numbers on them. But only 24. Which means I'll be doing 24 days of it every time.
So December 1st it is.
I'll figure out some sort of Pinteresty way of displaying these and each day we'll open them up. So far they've been hanging where the plastic grocery bags, aprons, and backpacks get hung in the kitchen. We're a work in progress fo sho.
What will be inside?
3 things
1. Scripture focusing on the coming of Christ.
2. A tea light
3. A fun Christmas activity or treat.
I'll pretty much be following
this guide
for the scriptures. Maybe in future years I'll come up with my own or do something like
what my friend April does
.
Every day we'll add a light. (instead of the traditional 4 or 5 lights) Mostly because it goes with my OTHER fun pinterest project: these candle holders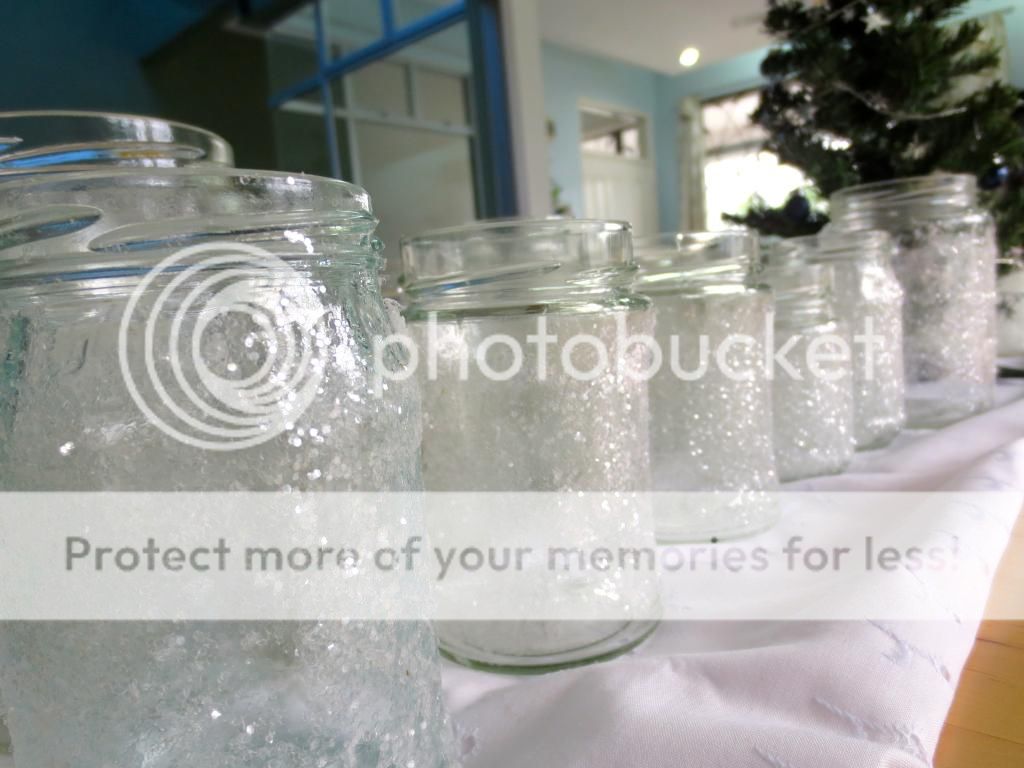 We'll be lighting our candles each night at dinner. The significance of the candles will be that each night leading up to Christmas it will get brighter. The Light of the World, with us.
The activities will be all kinds of things. Some of them short, some involved, many involving others, all of them (hopefully) fun. Crafts, food, songs, books, movies, and other activities. Christmas is a season of great joy...so for my little ones I want some of that joy to be tangible.
I'll do my best to keep the blog updated about how it goes. We are two days into it. The neighbor kids came over today and helped make snowflakes for our atrium. Isaac is already calling the lights "prop-e-see candles." The first day was glittering the jars.
I wanna know if you do Advent in your home. And if you have any helpful resources, feel free to post them in the comments!
And for you culture vultures...here's the German Poem that started it all!
"Advent, Advent ...ein Lichtlein brennt
erst eins, dann zwei, dann drei, dann vier
dann steht das Christkind vor der Tür."
(Advent, Advent, a light is burning, first one, then two, then three then four, then the Christkind stands at the door)
Happy Preparing!